11 tips to speed up the most common Windows computer
In addition to the software that supports to speed up the computer , we can also refer to 11 tips or speed up Windows computers used regularly by IT people, bringing good results.
1. Removing effects is a tip to speed up Windows effectively
A simple approach you can take to speed up your Windows computer without having to use any other application. That is the elimination of effects built into the operating system by manufacturers. Effects will help the platform become more sleek and beautiful in basic operations such as opening apps, switching apps.
On Windows 7, you can disable the Aero interface by right clicking and clicking Personalize. Select Window Color and uncheck Enable transparency.
2. Clean up junk on the computer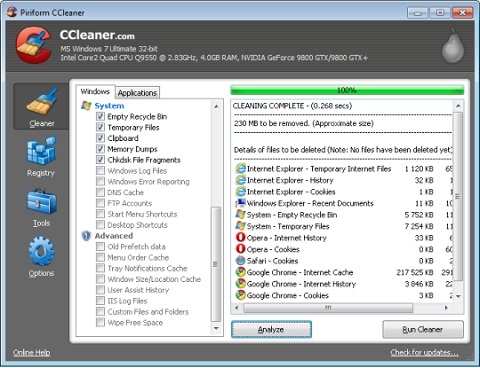 CCleaner is one of the software to speed up your computer , the software that helps clean up the system junk is highly appreciated. It will help you find and clear caches and temporary files in your applications.
3. Use anti-virus software
Viruses or malicious code (malware) is one of the leading factors causing the computer of your equipment becomes slow suddenly very serious, more can cause you to lose data. The easiest and fastest way to get rid of malware and viruses is software.
You can use the free Security Essentials antivirus software that Microsoft has built into the operating system to handle this situation. Note that, schedule quick scans daily, and full system scans weekly, to make sure your PC is running as smoothly as possible.
4. Upgrade SSD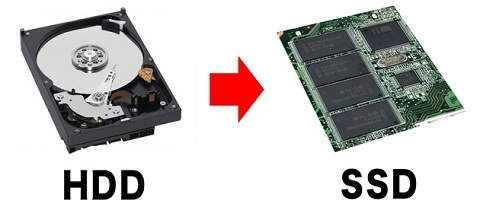 If the hardware upgrade options above still do not meet your needs, then replacing an SSD hard drive can be a perfect choice. The new generation of SSD hard drives will definitely give you a different experience and much more quickly.
Basically, SSDs are solid state drives (flash memory), so they operate very quietly, cool and shock resistant very high. In return, the price that you have to pay for this type of hard drive is not cheap.
5. Hardware upgrade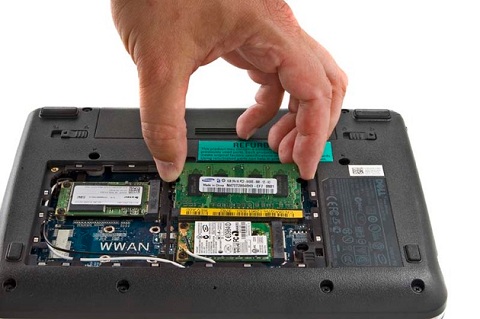 As mentioned at the beginning of the article, upgrading RAM or hard drive is also an easy way to improve the working speed of your computer and speed up your Windows computer . Of course, you will have to pay the cost to own higher capacity levels, faster retrieval, and better multitasking management. At present, the cost of RAM sticks and hard drives is not necessarily too high, so this is not a big problem for many users.
6. Reduce the number of apps open at startup
The slow boot process will also cause you to become inhibited. Therefore, you should limit automatic programs and applications to Windows . To do this, go to the Start bar and type "msconfig". At this point, a window will appear and you select the start up tab. Finally, you can remove unnecessary applications on startup by unchecking the boxes (programs, applications).
7. Turn off unused applications
There will be times when you will open a lot of websites, or some applications, but do not need to use them. This is when you should practice a habit of turning it off, this will help your device improve a lot of resources.
On Windows platforms, right-click the Taskbar and choose "Start Task Manager". Then look to the Process tab (the section that displays running applications and programs), this is the time to find yourself some unnecessary applications in the present time, finally turn them off with pressing "End Process".
8. If the browser is running slowly, clear the Caches
If the response speed on your browser becomes significantly worse, now is the time to clear the cache, clear the browser history saved during use, by accessing the system settings ( Setting) of the browser.
9. Start the machine
This method is certainly not unfamiliar to many readers anymore. When the device is open for several hours continuously, even when you do not use it, programs will silently consume a lot of memory of the device.
Restarting helps your computer completely refresh, eliminating "leaked memory" from programs and applications running in the background. The reboot process only takes a few minutes, but the effect is very high.
10. Clean up the hard drive
The cluttered data, or junk files, will make the ability to access data from the hard drives become slower. Use the small utility "Disk Defragmenter" built by Microsoft to help your hard drive become tidy and defragment the hard drive.
11. Reinstall the operating system
Reinstalling the operating system is probably the last resort, helping to thoroughly resolve all of the above conditions. This way not only will remove viruses, junk files, cache or temporary files will be thoroughly resolved.
Hopefully, with 11 tips to speed up your Windows computer in this article will help you use your computer effectively, get the highest performance during use.
MAYBE YOU ARE INTERESTED: